Fostering a Vision for Canada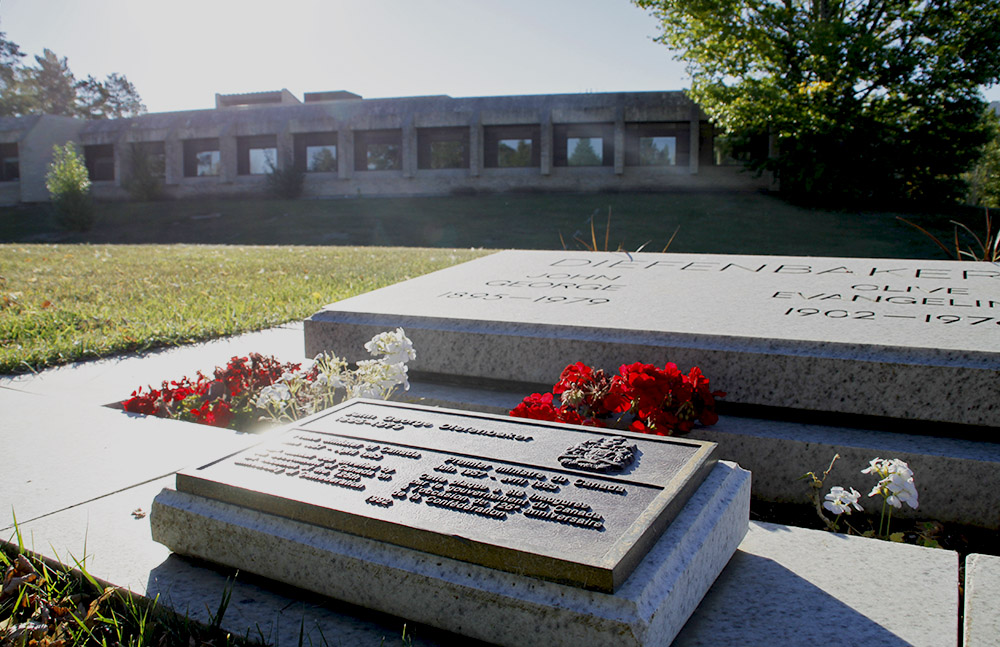 The Right Honourable John G. Diefenbaker dreamed of a united Canada, one which would find strength through diversity. The Diefenbaker Canada Centre's (DCC) mandate is to build on this legacy by celebrating citizenship, leadership, human rights and Canada's role in the international community.
The DCC offers a distinctively Canadian cultural experience. In addition to preserving and interpreting the core collection of personal artifacts bequeathed by Mr. Diefenbaker to the University of Saskatchewan (U of S), the DCC proudly hosts exhibits that interpret the Canadian experience, with a particular emphasis on the culture and heritage of the nation's many peoples. Education, learning and discovery are foremost in all activities and exhibits. 
With free admission, affordable programming, and interpretive tours, the DCC has created a welcoming and accessible environment. This fosters engagement that bridges the gap between the university and the greater Saskatoon community, and between all citizens, irrespective of background. 

The only Prime Ministerial Centre in Canada, the DCC enriches the community's civic and cultural knowledge through:
a gallery featuring in-house researched and produced displays, as well as nationally acclaimed travelling exhibits that bring the university and wider public together to explore topics that speak to the heart of our mandate;
quality educational programs that encourage youth to investigate the significance of history, rights, freedoms and Canadian governance, while challenging them to be aware of their vital role as active citizens;
creating engagement opportunities with the larger community in a cultural space where discussion and debate are encouraged;
offering comprehensive, themed and historical walking tours of the U of S campus;
attendance at local cultural and community events, providing increased access to Canadian heritage and history; and
Bringing travelling exhibits to museums and public events across the province to engage with diverse groups and increase public interest in Canadian history and politics. 
Originally opened in 1980, the gallery and building underwent significant renovations (funded by the U of S and the federal government) in March 2012, to modernize the spaces. Welcoming well over 10,000 local, national, and international visitors annually, the DCC is a vital part of Saskatoon's cultural landscape.
Highlight the importance of Diefenbaker's legacy and Canadian history
Create and implement youth programming that inspires active citizenship and engagement with Canadian democracy
Actively reach out to local, provincial, and national organizations to foster partnerships that advance shared goals and values
Present the rich assortment of artefacts and archival material through permanent and travelling exhibitions
Provide opportunities for the public to connect to the legacy left by Diefenbaker, and broader Canadian history, through outreach events held on campus and within the local community
Use social media to share historical images, documents and milestones
Via digital media (website), attract new audiences and extend visitor experiences by allowing viewers to immerse themselves in online exhibits and programs
Provide Inclusive Programs and Events that Engage the Greater Community
Place learning and discovery at the forefront of all activities, producing high-quality visitor and community engagement
Offer school and youth programs that are responsive to educator's needs and curriculum outcome demands
Deliver customized tours and programming that will appeal to adult and senior audiences, consequently strengthening the relationship with community partners
Develop a stronger relationship with high school and university students
Be a leading institution that is considered a valued cultural asset in Saskatchewan, Saskatoon and on the University of Saskatchewan campus 
For more information, see our Report to the Community
The Little Stone Schoolhouse
The original Victoria School (circa 1887) is widely recognized as Saskatoon's first public building. The one-room school house was used until a larger building was constructed in 1905; it was then moved to the University of Saskatchewan grounds in 1911. In 1967 the building was restored and opened as a museum. As stewards of this Municipal Heritage Site and Provincial Heritage Property, the DCC offers interpretative youth programming, and annual public open houses.