Fakes & Forgeries: Yesterday and Today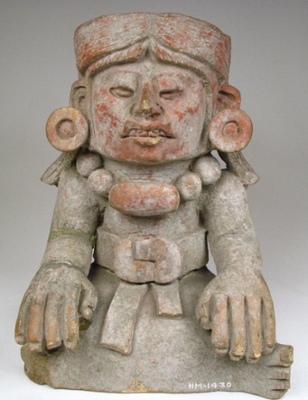 Can you tell the true object from the fake? This interactive exhibition presents 115 real and fake objects that run the gamut from historical specimens and cultural artifacts to household items and designer name brands. Visitors of all ages are invited to guess which objects are real and which are clever fakes. Learn how to tell authentic pieces from sly forgeries and discover the fascinating lengths forgers will take to hoodwink the unwary.
ABOUT THE EXHIBITION
This exhibit provides hints on how to tell the real from the fraudulent and provides the visitor with a chance to guess an authentic artifact or specimen from an almost identical forgery. Fakes and Forgeries features items from the Royal Ontario Museum's collection, spanning the Museum's dual mandate of Natural History and World Cultures.
Displays include modern knock-offs ranging from black market DVDs, to designer brand clothing and accessories, to counterfeit computer software, to counterfeiting currency and an array of counterfeit bank notes.
This exciting project has been made possible thanks to the exhibition's Presenting Sponsor Microsoft Canada, Education Partner the Bank of Canada and in part through a contribution from the Museums Assistance Program, Department of Canadian Heritage.
Presenting Sponsor | Microsoft
Educational Partner | Bank of Canada
Contributors | Canadian Anti-Counterfeiting Network, Kestenberg Siegal Lipkus LLP
Government Partner | Canadian Heritage 
Funded by | Government of Canada
---
China Through Saskatchewan Eyes: Evelyn Potter's 1971 Journey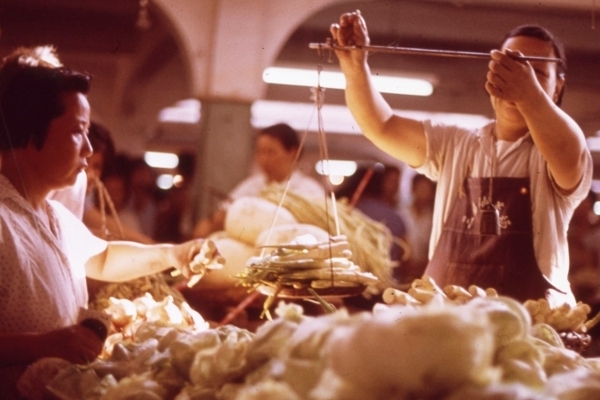 China Through Saskatchewan Eyes: Evelyn Potter's 1971 Journey featured a sampling of more than 1,150 photographs taken by Evelyn Potter in 1971, when she travelled to China as a member of a historically significant delegation. Co-curated by Evelyn Potter, Dr. Liang Zhao (PhD), a professor from Sichuan University (China), and Dr. Keith Thor Carlson (PhD), a University of Saskatchewan history professor, the exhibit's evocative pictures of city, farm, school, family and factory life provide an intimate view of Chinese society at the mid-way point of the Great Proletarian Cultural Revolution.
In 1971, following the opening of formal diplomatic relations, the first Canadian delegation (led by University of British Columbia faculty) travelled to China to promote cultural exchange and understanding. However, a mere month before, the trip had almost been cancelled when the Chinese government discovered that there were no farmers in the group. The Chinese demanded that a "peasant" representative be included, and the delegation's organizers turned to Evelyn Potter, the first women's president of the recently created National Farmers' Union (NFU). Potter agreed to join the delegation, and her participation was significant in motivating a series of subsequent Canada/China farmer-peasant exchanges organized through the NFU and the Canadian co-operative movement.
This exhibit offered glimpses into Potter's experiences and perspectives, as revealed in the images captured through her camera lens. Further, these pictures serve to remind us of the on-going importance of Canada's farm communities and agricultural sector in opening and shaping modern relations with the People's Republic of China.
While the photos in the exhibit are of China, in many ways the story is about Potter, a Saskatchewan farmer who had only been partially aware of the significant role she was playing in building awareness and understanding between the politically divided East and West.
Funded by:
Keith Thor Carlson, Research Chair in Indigenous and Community Engaged History, University of Saskatchewan
The College of Arts & Science, University of Saskatchewan
The Confucius Institute at the University of Saskatchewan
"From the Ground Up": Buddhism and East Asian Religions (FROGBEAR), Department of Asian Studies, University of British Columbia
---
Grand Theft Terra Firma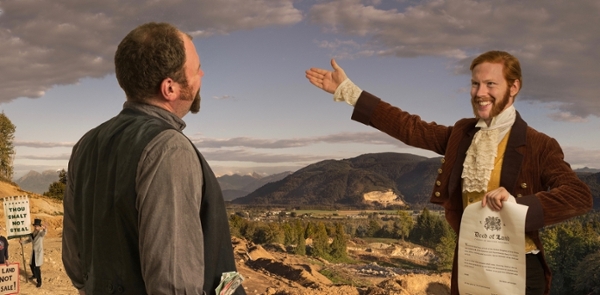 An exhibit of artwork created by David Campion and Sandra Shields. Produced and circulated by The Reach Gallery Museum Abbotsford. Curated by Laura Schneider.
Grand Theft Terra Firma is an unflinching redress of Canada's colonial narrative. By combining contemporary popular culture with historical source material, artists David Campion and Sandra Shields disrupt the celebratory mythology of nation building and invite us to critically evaluate our own continued and complicated relationship to colonial practices. As the title suggests, the exhibition appropriates the language of digital gaming to reframe the settlement of Canada as a complex heist. Specifically, the title refers to Grand Theft Auto, a series of popular video games considered highly controversial, in part because they require players to commit violent and immoral acts to achieve gaming success. Borrowing from this, the exhibition unfolds as a strategy guide to an imaginary video game based on historical events occurring within S'ólh Téméxw, now more commonly known as British Columbia's Fraser Valley.
The artists' use of gaming, satire, and humour provides entry points into difficult knowledge. These strategies encourage us to consider how history can become mythologized in its telling. The exhibition thus supports discussions around emergent notions of personal awareness and responsibility in the process of decolonization, and emphasizes the potential for art to promote critical discourse in divided societies.
The Diefenbaker Canada Centre would also like to recognize and thank the University of Saskatchewan's departments of History and Indigenous Studies for their financial and in-kind support of the exhibit.