Canada's Role in the International Community

View the online exhibits that connect the Right and Honourable John G. Diefenbaker with the theme of Canada's role in the international community by looking for this blue maple leaf icon! To view all exhibits related to Diefenbaker's legacy, please click on the blue maple leaf icon.

If you are a teacher interested in materials for your classroom, look for the grey in-class materials icon! All online exhibits with this icon can be viewed in the classroom and supplemented with free, downloadable educational activities and printables. To view the associated in-class materials, click on the icon or visit our in-class materials page.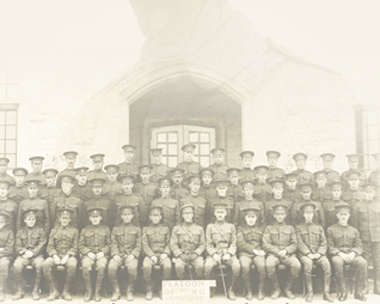 Deo et Patriae - For God and Country: The University of Saskatchewan and The Great War
(1907-1933) 
The Great War profoundly altered the University of Saskatchewan and irrevocably transformed its sense of identity as an institution.
This exhibit highlights the achievements and sacrifices of individuals from the University, examines the U of S community's role in the War effort, the War's impact on campus life and education, and the legacy of the War that is indelibly evident in the memorials throughout campus.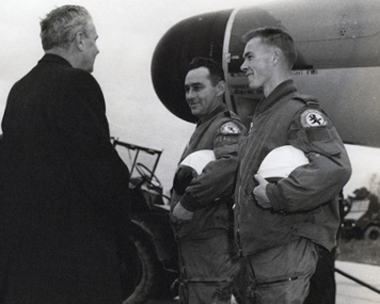 The Nuclear Question in Canada
(1950-1963)  
Throughout his term as Prime Minister, John Diefenbaker struggled to determine whether Canada should acquire nuclear weapons. View this online exhibit to learn more about NORAD, the Avro Arrow, the Bomarc Missile, and the Nuclear Non-Proliferation Treaty.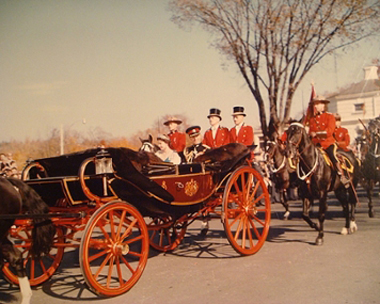 The Crown in Canada
(1957)  
John Diefenbaker held a deep respect for the monarchy and was a passionate defender of the British Parliamentary system throughout his political career. View this online exhibit to learn more about British-Canada relations and Queen Elizabeth II's visit to Canada in 1957.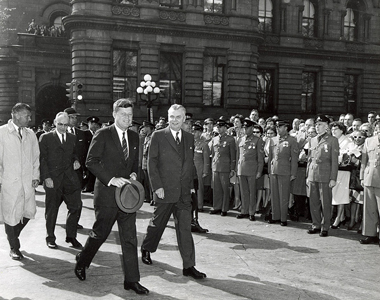 Canada's Role in the Cuban Missile Crisis
(1962)  
Prime Minister Diefenbaker hesitated when President Kennedy told him to raise Canada's military status to DEFCON 3, drawing a variety of responses from the public. View this exhibit to learn more about the relationship between John F. Kennedy and John G. Diefenbaker and Canada's response to the Cuban Missile Crisis.