Virtual Diefenbaker Spy Academy
Diefenbaker Summer Camp Registration is Open!
The Diefenbaker Canada Centre is looking forward to another summer of online learning adventures! The Diefenbaker Spy Academy is ready to begin training its newest recruits and we are excited to introduce an all new camp, focused on community appreciation and everyday heroes!
---
Calling All Spies: Virtual Junior Spy Academy (Ages 7-9)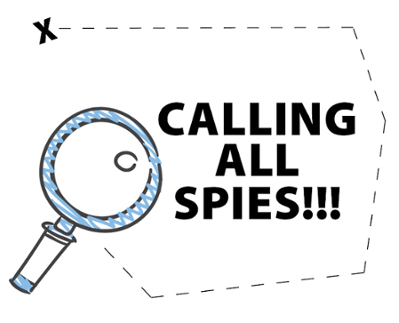 Calling all spies! Become a Junior Recruit at the super-secret Virtual Diefenbaker Spy Academy (VDSA). Daily online briefings from the VDSA Director will provide you with the skills you need to create a cover identity and hideout, analyze evidence, decode and create secret messages, design your own spy gear and so much more! The VDSA training program will include a variety of interactive online and pre-recorded activities designed to be completed from home. Junior recruits will participate in age-appropriate spy missions and crafts, while learning about the world of espionage to become the newest members of the VDSA!
Dates:
July  5-9, 2021
July 12-16, 2021
August 9-13, 2021
August 23-27, 2021
---
Calling All Spies: Virtual Agents in Training (Ages 10-12)
Register now to become one of the newest Agents-in-Training at the super-secret Virtual Diefenbaker Spy Academy (VDSA). Secret intelligence has revealed unusual activity at the DCC! It appears that there is a criminal plan in place, but there is little evidence. Luckily, the VDSA knows that there is always more than meets the eye! VDSA agents will receive daily online briefings from the Academy Director and participate in crime-solving activities from their home base, including identifying and interrogating suspects, decoding secret messages, gathering evidence and analyzing details. With the clock ticking, by the end of the training week, recruits will have all the skills they need to crack the case, prevent the crime and become official VDSA Special Agents!
Dates:
July 19-23, 2021
July 26-30, 2021
August 16-20, 2021
Virtual Diefenbaker Leadership Academy
Community Heroes (Ages 7-9)
This virtual camp is all about community appreciation! The global pandemic has taught us all about the importance community heroes: in our homes, our neighbourhood, our country and across the globe. Through hands-on challenges, activities and games, campers will explore what it means to be an everyday hero and how they can make an impact in their own community. Each camper will find something about their community that inspires them and will explore ways to show their appreciation through leadership and hard work. By the end of the week, your camper will discover their own inner hero! 
Dates:
July  5-9, 2021
July 19-23, 2021
July 26-30, 2021
August 16-20, 2021
---
Yes We Can! Community Leaders (Ages 10-12)
Have you ever wanted to make a difference in your community? Join us online for a fun-filled week and discover how you can become an active citizen! Explore how past leaders guided their communities through social movements and political campaigns and engage in hands-on activities and challenges that are sure to leave an impression. As Canada's future generation, you will learn about everyday heroes who have made their voices heard and how change-makers can make a difference in their own communities: at home, in the neighbourhood and across the country!
Dates:
July 12-16, 2021
August 9-13, 2021
August 23-27, 2021
The early bird cost for each virtual program within the Virtual Diefenbaker Spy Academy and the Virtual Diefenbaker Leadership Academy is $80 for five half-days (M-F). Register before June 15, 2021 to take advantage of this reduced rate. On the June 16, the rate will be $100 per five half-day program.
All virtual camp programs run daily from 9:30 am to 12:30 pm, using a combination of Zoom and Seesaw. Camp packages including program materials (worksheets and craft supplies) will be available for in-person pick up at the Diefenbaker Canada Centre prior to the start of camp.
If you are unable to pick up your camp package in person, optional shipping is available for an added cost and can be selected at the time of registration. Please register early if you would like materials shipped to you to ensure they arrive ahead of time.
Please note that camp fees are non-refundable upon receipt of camp program material.
For more information, please contact the Diefenbaker Canada Centre: 
dief.centre@usask.ca
or 306-966-8384.