We acknowledge that the Diefenbaker Canada Centre resides on Treaty Six Territory and the Homeland of the Métis. While we celebrate citizenship, leadership, and Canada's role in the international community, we also pay our respect to the First Nation and Métis ancestors of this place and reaffirm our relationship with one another. 
During his service to this country and its people, The Right Honourable John G. Diefenbaker dreamed of a creating a united Canada, one which would find strength in diversity and where people in every region would share in prosperity. We believe in and continue to support his goal of a united country—one that celebrates and supports all races, colours, religions, genders, gender identities or expressions, sexual orientations, national origins, disabilities, and ages—by welcoming all to the centre.
Our Story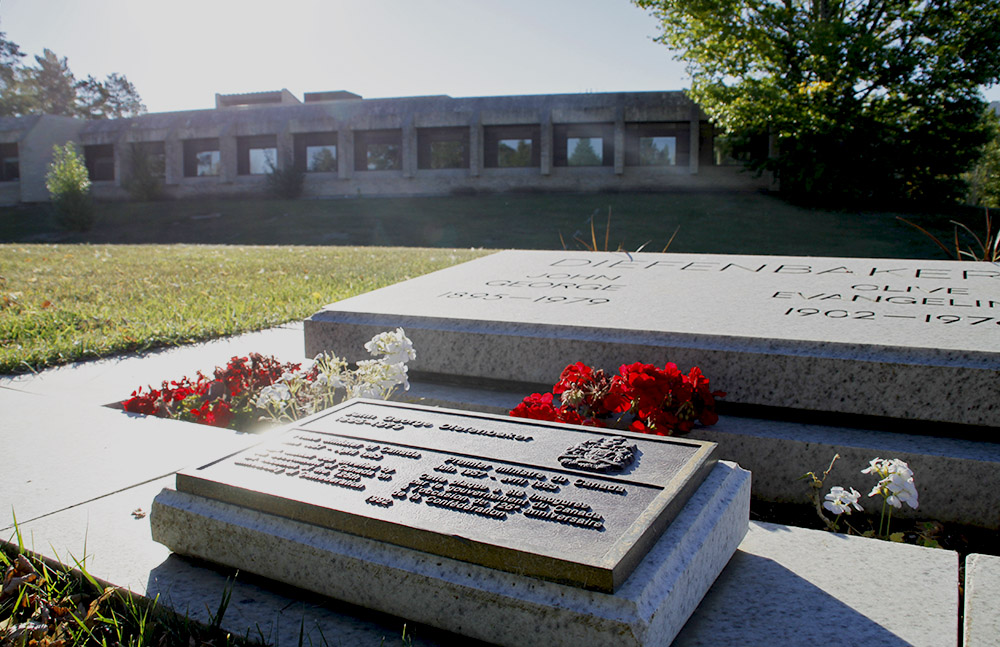 The Diefenbaker Canada Centre is unique for both its location on the University of Saskatchewan campus and its appeal to a diverse audience of all ages and identities. In addition to preserving and interpreting the core collection of personal artifacts bequeathed by Mr. Diefenbaker, the Diefenbaker Canada Centre proudly hosts a wide variety of exhibits designed to appeal to audiences of all ages. With affordable admission, programming, and guided tours, the DCC creates a welcoming and accessible environment that bridges the gap between the University of Saskatchewan and the greater Saskatoon community. Education, learning and discovery are foremost in all activities and exhibits, encouraging visitors to explore and engage with all that the Diefenbaker Canada Centre has to offer.  
Mission 
To help people make meaningful and personal connections to ideas of citizenship, leadership, and Canada's role in the international community.  
Vision 
To create a welcoming and inclusive environment where visitors can experience the timeless themes of Diefenbaker's legacy through a modern perspective.  
At the Diefenbaker Canada Centre, we: 
Create and co-create exhibitions, programs, and special events. 

Generate dialogues and conversations on citizenship, leadership, and Canada's role in the international community. 

Are financially viable. 

Are environmentally conscious. 

Steward the permanent collection. 

Create an environment where people are empowered and supported. 
Finally, we encourage accessibility through collaboration, community service to underrepresented groups, including youth, newcomers, and seniors, and relationship-building with the wider community.  
The Diefenbaker Canada Centre team is committed to upholding this mandate and utilizing  these attributes wherever possible in our primary ventures: exhibits, programming, and community outreach. 
The Diefenbaker Building

On September 20, 1975, John G. Diefenbaker himself turned the sod to start construction of the Diefenbaker Canada Centre. The building was officially opened five years later, about one year after John Diefenbaker's death in 1979.
| | | |
| --- | --- | --- |
| | | |
In March 2012, the Diefenbaker gallery and building underwent significant renovations (funded by the U of S and the federal government) to modernize the spaces. Welcoming well over 10,000 local, national, and international visitors annually, the DCC is a vital part of Saskatoon's cultural landscape.
The Diefenbaker Canada Centre now shares the building with three distinct organizations, including the Johnson Shoyama Graduate School of Public Policy, Canadian Centre for the Study of Co-operatives, and the Centre for the Study of Science and Innovation Policy. Each unit maintains its own complement of faculty, staff and students, although we all work collectively and support each other.