View the online exhibits that connect the Right and Honourable John G. Diefenbaker with the theme of Leadership by looking for this blue maple leaf icon! To view all exhibits related to Diefenbaker's legacy, please click on the blue maple leaf icon.

If you are a teacher interested in materials for your classroom, look for the grey in-class materials icon! All online exhibits with this icon can be viewed in the classroom and supplemented with free, downloadable educational activities and printables. To view the associated in-class materials, click on the icon or visit our in-class materials page. 
Image: Chief Whitecap and John Lake statue featured in Wa Pa Ha Ska online exhibit.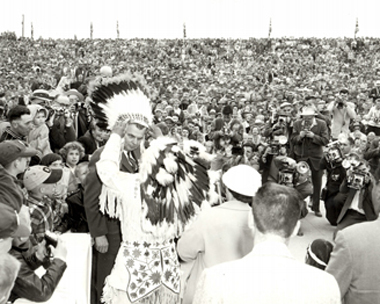 Wa Pa Ha Ska: Whitecap Dakota First Nation
(1763-2012) 
An exhibited curated in partnership between the Diefenbaker Canada Centre and Whitecap Dakota First Nation.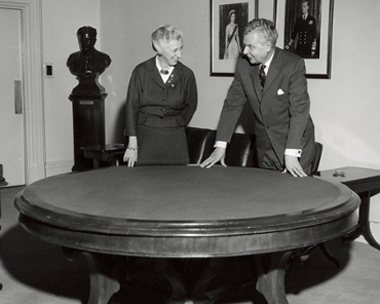 The Appointment of Ellen Fairclough as Canada's First Female Cabinet Minister
(1950-1963)  
Fairclough triumphed in the face of difficulty; she endured the discrimination she faced as a woman in the workplace. Learn more about Ellen Fairclough's life and political achievements in this online exhibit.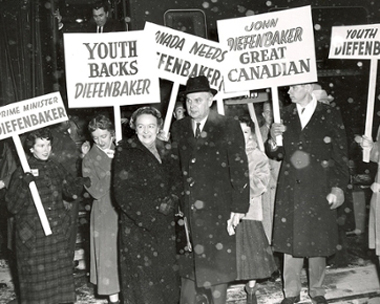 The Federal Elections of 1957-1958
(1957-1958)  
The Liberals had been in power since 1935 and the Progressive Conservative Party of Canada, with newly-elected leader John G. Diefenbaker, was confident that they could make electoral inroads. View this online exhibit to learn more about the campaigning and elections that took place in 1957 and 1958.