Replica Rooms: Office of the Prime Minister and Privy Council Chamber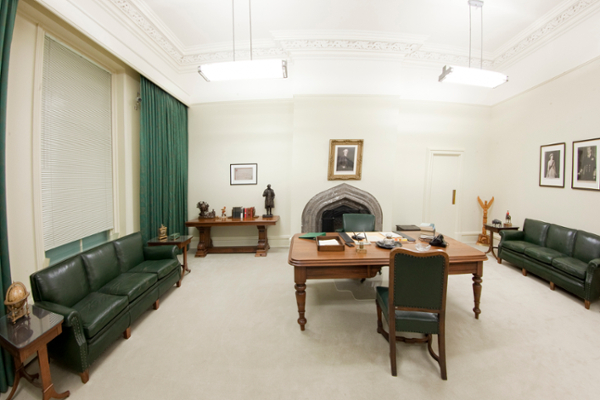 The Diefenbaker Building is temporarily closed, due to the COVID-19 pandemic. During this time, we encourage you to view our online exhibits to learn more about Canada's history from the comfort of your home.
The Diefenbaker Canada Centre's gallery features two replica rooms that capture Canadian political life as it was during the latter 1950s and early 1960s. The Prime Minister's Office depicts the East Block Office as it appeared during Diefenbaker's tenure as Prime Minister. It features original and reproduction furniture, as well as personal items belonging to Diefenbaker. The Privy Council Chamber illustrates the cabinet meeting room, featuring replications of Confederation era furniture and original signed photographs of the first twelve Canadian Prime Ministers. The replica rooms include iPads containing speech excerpts, room descriptions and a broad selection of historical photographs, providing an interactive component for visitors.